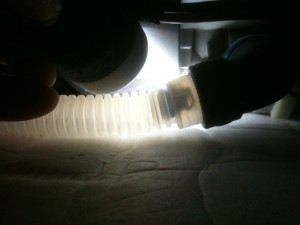 Here's a hint for all you tech's and DYI'ers out there.
If you have a Whirlpool or Kitchen Aid dishwasher that is either not draining or draining slow … and you've checked all the regular culprits for this problem (blocked drain hose at sink stack, crushed or collapsed hose, plugged sump, etc.), then you need to check the backflow check-valve in the hose itself.
The valve is a little rubber flapper and is located inside the hose just before the 90 deg elbow where the drain hose fits onto the bottom of the sump/pump.
If you use a flashlight and backlight it, you should see it flap open when the drain pump starts.  It will look like a little black circle sitting on the side of the drain hose.
If junk gets stuck up behind it, the flap can be prevented form opening all the way.  Also, if the flap gets lodged into the opening instead of resting on the face, it will not open up all the way.
In the video, you can clearly see it moving slightly as the water rushes by it – that is what you should be seeing.