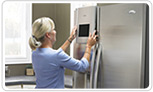 The Whirlpool Corp. press release gives more information on the onboard computer systems planned for their refrigerator.
In addition to the Clio(R) Vu by Data Evolution (see previous post here), other included gadgets are:
CEIVA Digital Photo Frame
Designed for the centralpark(TM) connection, the frame is Wi-Fi ready and features an 8″ high- resolution LCD screen with a built-in card reader. With on-screen menus, the frame is easy to use and capable of automatically receiving photos sent by camera phone or through an online CEIVA account.
Brandmotion iPod Speaker System
Brandmotion, a current "Made for iPod" Apple licensee, and authorized iPod accessory manufacturer created a self-charging, high-quality iPod docking system with dual stereo speakers for use with the centralpark(TM) connection. The docking station is specifically designed for use in the kitchen with four large membrane-type buttons for easy use and cleanup. The docking station is manufactured to securely hold any size iPod and withstand the frequent opening and closing of the freezer door.
Cozi Family Organizational Software
Cozi, a free software and Web service which helps busy families manage their schedules, create shopping and to-do lists, organize household chores and stay in communication, is one of Whirlpool brand's latest partners. When used with the centralpark(TM) connection, Cozi is able to provide easy-to-use solutions in the middle of the action, right on the refrigerator. In addition to Cozi's calendar, photo and messaging features, Whirlpool consumers will find it especially helpful to add items to the Cozi Shopping List right from their kitchen and then receive the list as a text message on their mobile phone, when away from home. With Cozi, families stay coordinated, schedules are updated, groceries are purchased — all in an effort to simplify and enjoy family life.
Quartet(R) Qnote(TM) Message Center by Acco Brands
The Quartet(R) Qnote(TM) Message Center enables families to share and communicate important messages from the kitchen. Quartet, maker of visual solutions for over 50 years, designed the Qnote Message Center specifically for the centralpark(TM) connection. The message center, made of durable tempered glass, offers a superior dry-erase writing surface and ambient surface illumination to bring messages to light. Interchangeable templates offer customizable layouts to meet each family's individual lifestyles and unique tastes. A digital clock with date and timer, and a sliding storage drawer to keep documents like schedules and menus handy, are all part of Qnote's organizational features.
To see more about the Centralpark connection system goto whirlpool.com/centralpark.