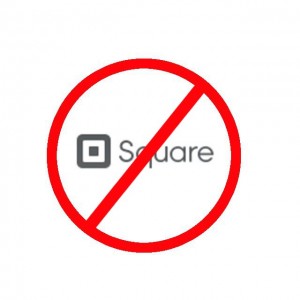 Several weeks ago I began my search for a mobile credit card reader that would allow me to take Visa and Mastercard from my customers. Rather than going with an expensive Point of Sale (POS) machine from one of the banks, I've been exploring the various mobile phone readers. These readers are little devices that attach to your Android or iPhone that allow a card to be swiped and a transaction completed. For the convenience of this service, you pay a certain percentage to the company supplying the device. There are a number of companies offering these mobile readers including Payfirma, Paypal, Intuit, Payd and Squarup.
Squareup recently opened up in Canada, so I thought I would give them a try.  They have good rates and their reader is free.  Unfortunately, that is about as good as it gets with this company.  I went through their signup process and online 'verification of identity' and received back a rather cryptic message saying that I could not be verified at this time, but someone from their customer service department would contact me shortly.  I waited a week – no contact.  So I emailed them back and asked what was going on.  'Violet' replied, "Thanks for writing in. It looks like you have not yet completed activating your Square account. To complete activation, please log in to your Square Dashboard at https://squareup.com/activate."  Ok, well I went through the complete process on your site … not sure how I did not 'complete' my activation but whatever.  Back to their site and through the signup process again.
This time I get a message saying that my identity could not be verified.  Keep in mind that during the signup process I had supplied them with my Social Insurance number as well as other pieces of information about where I live and where I do my banking.  This time the customer service person ('Sally') said she would 'reset' my application and gave me some suggestions why my application had be denied.  One of the reasons given was if I had moved recently, that I should enter my old address.  So – back to the signup form (third time.)  I went through all the questions, etc but this time used my Ontario address instead of where I really live here in Manitoba.  (I moved about 2 months ago.)
This time I got this message:  "We're unable to approve you at this time. We're working hard to approve as many people as possible as we launch in Canada. We'll get back to you when we can activate you to accept payment cards."
So I emailed them again.  This is the reply from 'Sally':
Thanks for writing back in. It looks like your application was again declined because we were unable to verify your identity during the activation process.
Our decision remains that we can not approve your request to accept card payments with Square. There is nothing more we can do for you at this time.
We are working hard to activate more people. Should we have an update, we'll let you know.

Thanks for your understanding.

Sincerely,
"Thanks for my understanding"??? I DON'T understand. I am who I say I am. I run a very public business. My phone numbers, names, personal identity and history is all over the internet.  It is very easy to 'verify' who I am.  They have simply made a decision based on some automated verification process that for whatever reason my application information fails.  That's it.  Period.
This is the line that irritates me the most, "There is nothing more we can do for you at this time."  What they really mean is 'there is nothing more we are going to do for you …'.  It's not that there is nothing they 'can' do, just that they are not willing to do any further steps to verify who I am … even though it is their process that has denied me.  What would it take?  A phone call?  An email to my bank?  A copy of some communication from Revenue Canada with my name and address on it?  How hard is that??  If your verification process is so strict, what about having a department of 'live' people (preferably in Canada … )
Conclusion:  Squareup is NOT ready for the big time yet.  They appear to be a narrow-minded, unresponsive company who is looking to get as many signups as they can without actually doing any work.   My advice is to skip Squareup and work with any of the other companies that I mentioned at the beginning of this post.  Will try Paypal now.
Update Feb 14/13:
I have never heard anything back from Squareup.  I've emailed them a couple of more times asking for them to provide some other way of verifying me, but they don't even reply to the emails now.  This is a perfect example of how to NOT do customer service!
Paypal is in exclusive testing here in Canada right now, and are not accepting new testers – so I will wait and try them later.  
So I decided to give PAYd a try.  They offer the exact same type of product at virtually the same rates as Squareup and Paypal.  The signup was easy – just my basic information and a few verification questions – and 24 hours later I get this in my inbox:
Dear Todd,

We're pleased to let you know that your PAYD™ account has been approved! Follow the instructions on this email to begin accepting credit cards today. Here is your PAYD merchant and store ID. Keep this information handy for future reference.
So – PAYD! was able to verify me with EXACTLY the same information as what I gave Squareup, and within 24 hours I was setup and ready to take credit cards.
Based on my experiences with both companies – well, it's not even a contest. Don't even waste your time with Squareup – go with PAYD!