Integrated washing machines are becoming more popular with the explosion of front loaders on the market these days. There are several ways to build in your washing machine (making it integrated) which we will discuss in more detail below. As most manufacturers are making some sort of front loader, you will have a choice of many different brands.
There are many advantages to integrating your washing machine. There are also a few substantial disadvantages which we will also mention.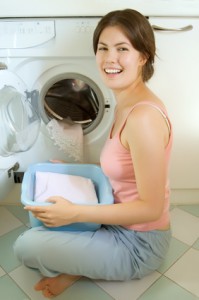 The main advantage of building in your washer and dryer is aesthetic. A built in washer can be put pretty much anywhere including your kitchen, your bathroom, a bedroom or a dedicated laundry room. The typical installation usually involves integrating the washer and dryer into the cabinets under a counter-top. This hides the appliances away and makes for a very clean and uncluttered room. This type of integration means that the space on top of the machines becomes much more useful. This is especially important in kitchen or bathroom installations where you need all the counter space you can get. When installing in cabinets under a counter-top, make sure that you configure the doors to open in a 'french door' style. That is, they both open in opposite directions making the space between the washer and dryer unimpeded. You should also make sure that the appliance doors open in opposite directions as well. Typically the dryer door swing can be changed, so make your decision on where to place them based on the way the washer door opens.
The main disadvantage to integrating your washing machine and dryer is that it makes service and maintenance extremely difficult. This is especially true if the room where they are integrated is very small preventing them from even being pulled out easily. Often integrated washing machines need to be plugged in and hooked up to water while taken apart for the service man to figure out what is wrong with it. If the hoses and electrical connections are too short, then often the service becomes very long and involved which can drive up the cost of your service call. (Of course, your new washer and dryer will never require service … right?) For the dryer, the vent hose needs to be periodically cleaned. Plus when the machine is pushed back, you need to ensure that the hose is not crushed or collapsed in any way. This is difficult to do and check if you have an integrated dryer.
Closet Integrated Washing Machines
This type of integration is probably the most common. Many condo's and smaller homes use a small closet for the washer and dryer. Usually, this means stacking the dryer on top of the washer and then building them in as a pair.  Most often a stacking kit is required to safely install the dryer up on top of the washer.  This is a very clean install and a very economical use of space if you have little space to spare. While some closets can accomodate a full size pair stacked up, more often this installation is used with the smaller washer and dryers to fit within a narrow closet space. The main issues of consideration are the water supply, drain and venting for the dryer. If you can find a solution to those issues, then this is a wonderful way to integrate your washing machine and dryer.
Cabinet Integrated Washing Machines
This is another way of integrating your laundry pair. This usually involves installing them side by side under a counter-top. This is most often the best way to use the space in a laundry room the is long but narrow. This is also a popular way of integrating the washer into a bathroom or kitchen. Again ease of use is greatly increased if you make sure that the doors to each cabinet and each appliance opens outward so the the space between the two appliances is clear. This makes for easy moving of clothes from the washer to the dryer.
One-piece Stackers as Integrated Washing Machines
Stackers as they are called in the industry are usually one-piece machines that often incorporate a top-loading washer beneath with the dryer above. This is an ideal design for closet installation and is also very popular in smallish condo's and apartments. The major drawback is again service. They can be very difficult to service and if one ends up needing replacement, then you have to buy a whole new stacker as they cannot be purchased separately. However, with proper care these machines should last at least 15 years making this less of an issue.
Integrated washing machines and integrated dryers are a wonderful way to work in a small space. Proper preparation and planning can make the installation and maintenance of these units easier and you will certainly appreciate the extra space that you free up by building them in.