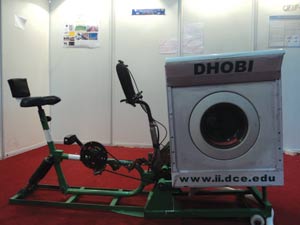 Invented by a second year computer-engineering Bhutanese student in New Delhi, India, the pedal powered washing machine called "dhobi".   "Dhobi" won 22-year-old Vishma Rai, the first prize for innovative Green Energy technologies for India 2011. The prize was that Green Energy would help mass produce and market the product.  "But I wanted this to be a Bhutanese green product with a Bhutanese name before it's mass produced," Vishma said.
It took Vishma two months to get a no-objection certificate from his university to mass produce Dhobi. He has taken a semester off and is now planning to approach His Majesty and various agencies for support, both financial and administrative.
The idea to invent this product, which is under process for registration, was inspired from a cycle rickshaw. With a capacity is five kilograms, it took Vishma about seven months to make Dhobi.
"There was no washing machine in our boy's hostel and we go to the gym to burn calories," he said. "They say necessity is the mother of invention, and I thought of making something that would help us wash clothes and burn calories by pedaling."
Neighbour's Editorial: I'm not sure how handy this would be …  Plus the caloric calculations in the original article seem to be wrong.  It's kinda big – but in the world of green energy and all things 'eco', I suppose it might have a spot to fill.
Read full article here.